Budapest Eating 2005
A great trip to Budapest was had, I spent 3 days there and was committed to uncovering some gems off the beaten track more suited to my student budget. Being a poor gourmand is no easy feat and I wanted to try authentic, good food that Budapest had to offer so I emailed a local for some tips. I'm just back from Budapest too. It was amazing. We managed to avoid all the tourist traps and navigated our way round some really good, cheap local restaurants and get a flavour of Hungary without all the cliched stuff.
Don't bother going to ANY restaurant on or near Vaci Utca, its kinda sleazy and you'll be properly ripped off (unless you enjoy that kinda thing). Avoid bars with girls sitting in the entrance of looking bored..
I stayed in the Hotel Taverna on Vaci Utca, right in the centre of the shopping district, the location was excellent and literally 2 minutes away from the riverside. I have to say that they were very accomodating and helpful although it wasn't worth the going rate of 140 euros a night (we got ours via Expedia so we didn't pay even one 5th of the price)I emailed a local in Budapest for recommendations for food and managed to eat incredibly well for hardly anything.
CASTRO BISTRO Address:1090 Budapest, Rádai u. 35. 36 (End of the Raday, go past all the touristy places like Pink Cadillac and stuff)
You would never know that this place does great Serbian Croat food, it looks just like a cafe/drinking estbalishment albeit an incredibly popular one. Very, very busy and we had to wait 15 minutes for a table, but it was very worth it. A few specialites for very cheap prices and extremely large portions. again.
Pork knuckle and bean soup:
Beef and Pork kebabs:
Grilled porkchops with grilled paprika.
STEX HAZ - H-1085 Budapest, József krt. 55-57.
Menu:
http://www.travelport.hu/vendeglatas/EVendeg.vd?&session_id=6Jsm257106112091574116JsmN&ed=5&ekezet=0&fp=3&fi=0&lang=en&lang=en&ml=11&ei=0&s=0&mi=2&xcnl30
This is a number of photos from two meals we had at 'STEX HAZ' which is a brassserie that seemed incredibly popular with the locals, great ambience and good traditional national pub food. No tourists, but they do have an English menu. Very good prices and a big menu heavy on meats as to be expected. the international-type dishes we felt were not as successful as the Hungarian specialities.
Beefsteak with asparagus and ham ragu for around £5
Although it doens't look too appetising here and appears to be a heart-attack on the plate, it was supriseingly wholesome, something called the 'poultry plate' which featured a potato pancake smothered with sour cream and cheese and grilled chicken wing and breast.
Here is a layered dish of chicken baked with ham in a metal stove which I can't remember the name of, it included a pouring sauce of dijon and honey that came in a gravy boat.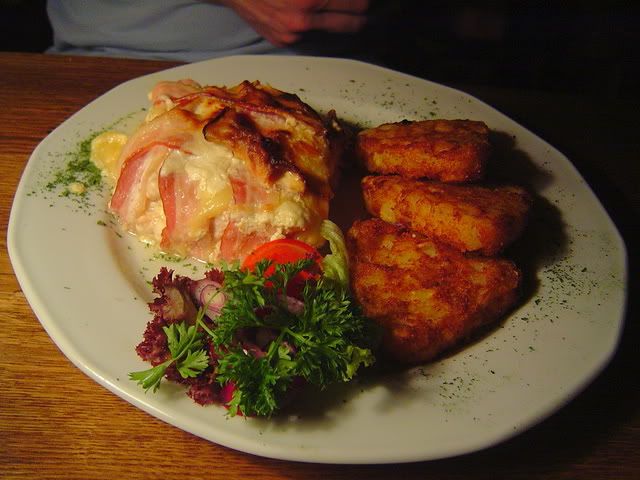 Goulash (one bowl but like the rest of the portion sizing in Budapest actually enough for 2 people and a child):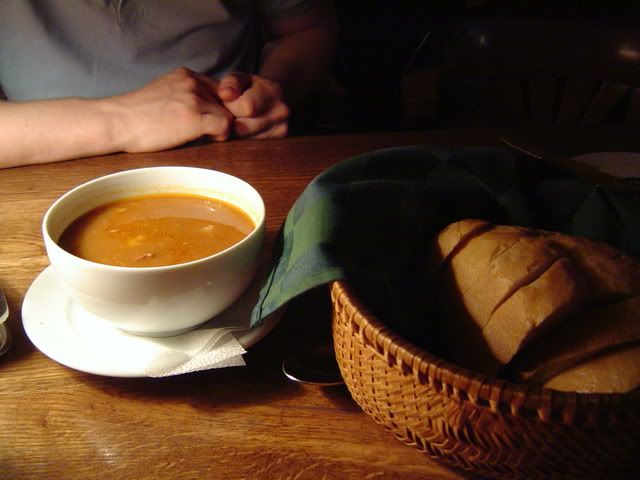 Lizst Ferenc area around the Opera House is kind of the 'go to be seen' sort of place, very touristy with a number of cafes that lal look the same and kind of themed-corporate feeling with overpriced international food, although the atmosphere is ok - its mainly tourists checking other tourists out. I overdosed on really high quality espressos (for less than 80p) and the famous Budapestian cakes/desserts to be found in every good Custrazda (dessert/cake buffet).
Reccomendations are Jegbufe and Europa Cafe, although if you stay away from the tourity bits and be a bit more adventourous you really get to uncover good stuff. For quick bites on there are pastry stands at almost every station called Princess which floods the station with an amazing smell. I think Budapest has quite a large Middle Eastern community, try and find gyros cafes (kebab canteens) they often do really quite high quality Greek food/meze which you have to pay extortionately for in the UK.
They're dotted about all over the place and are more family-orientated restaurants than the image of a kebab place in England. Ask for a 'Gyros 'tal' for a full plate of really good food including salad, rice bread and potatoes for around 550 Forint (about £1.50!). Arabic coffee and Arabian sweets like baklava are also sold in these places). The best thing is the lack of the tooth-breaking sweetness that I've experienced with baklava in the UK.
A seletion of baklava with very aromatic Arabian coffee. Very large desserts too.
The Central Market sold an amazing variety of meats, pork and poultry seeming to be transformed into an endless array of speck, hams, smoked and preserved meats. there is also game and fish in the basement (you'll know from the wild smell as you go downstairs!) and also homemade picled vegetables.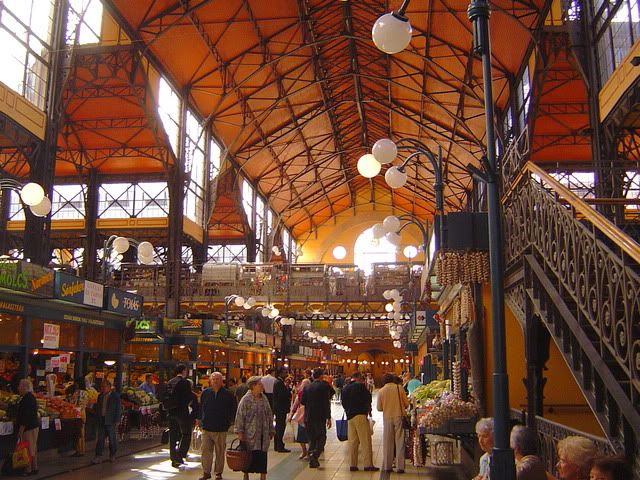 There are endless stalls like this on the floor of the market, worth buying is salami to take home.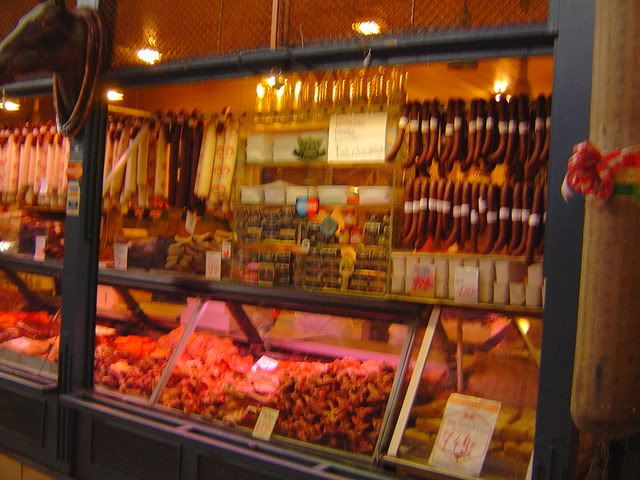 Desserts etc.
I feel like I need to make another whole post dedicated especially to Hungarian biscuits and cakes and so on. The flavour is definitely different to desserts and baked goods in the UK that I find way too sweet. I think that fructose instead of sugar is used in the pastry and tortas which lends a more subtle sweetness. In any case, a slice of torta shouldn't set you back more than 200 Forint at a stall or around 300 Forint in a cake cafe. That is less than 1 english pound, which astounds me.
SPAGHETTI ICE - Address : VI. Andrássy út 14.Tel : (+36-1) 332 4559 Open daily :09:00-24:00
Italian gelaterie with its signature dish a bowl of ice cream created to look like a bowl of spaghetti, there were amazing flavours including tiramisu, nutella, amaretto and Kinder!
Here are the nutella and tiramisu sundaes.
JEGBUFE
'The Jegbufe was opened by Sandor Flaschner more then 50 years ago and in the rush going on around it, it's almost the only place which gives the feel of continuity. It's just as it was ever. You have to order at the desk, pay at the cashiers and then go back with the receipt to pick up your stuff which at the end you can eat and rink standing in the window watching the life going on outside. Jegbufe is a snack-bar, pastry shop, cofeehouse and ice-cream shop in one! And it's in the very heart of the city, offering a view on the traffic going to and coming from the Elisabeth Bridge, and the people changing means of transport on the square. Don't go there if you are watching for excellence, this place is for a quick snack and to get the air of the past 50 years.
Theme: BuffetComparison: less expensive than averageAddress: 5th district, Ferenciek tere 10.Phone: +36 1 318-6205
Directions: It's just on the corner of Ferenciek tere (if you face the Danube, then on the right side), between the entrance of the underground and the bus stop.'
Very centrally placed canteen-style cake buffet. Pay first by saying the name of the cake you want and then take the reciept to the counter. Very busy and the attitude to cake-eating seems very utilitarian as opposed ot the whole sit-down affair you get back in london, I suppose its because they don't have to suffer the experience of the cost for a slice of very mediocre Starbucks-mass produced stuff.
I couldn't possibly post pictures of all the cakes eaten here, but here are a few worthy of note, below is a passionfruit mousse with chocolate pieces dotted through it. Very light and delicious.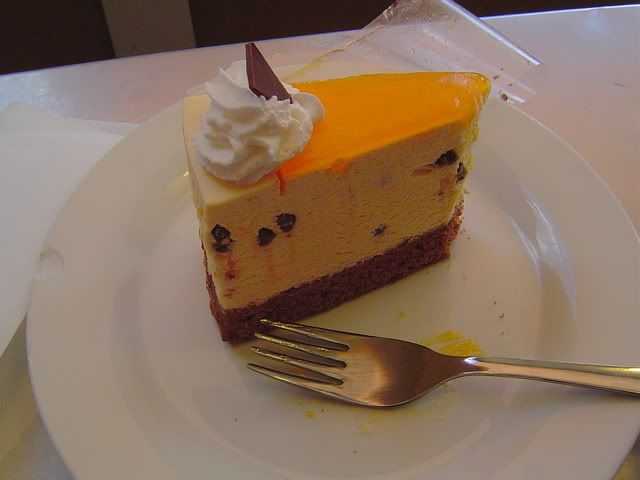 Sacher torte
More banana chocolate torta:
At the Angelika cafe by the Pest Riverside:
EUROPA CAFE
Address : V. Szent István krt. 7-9.
Great little cafe with good cakes/desserts, although they charge drink via militires ccs, which I found a little odd.
Chocolate dessert, brownie like with crispy pieces in the middle.
A biscuit shell with a chocolate mousse interior: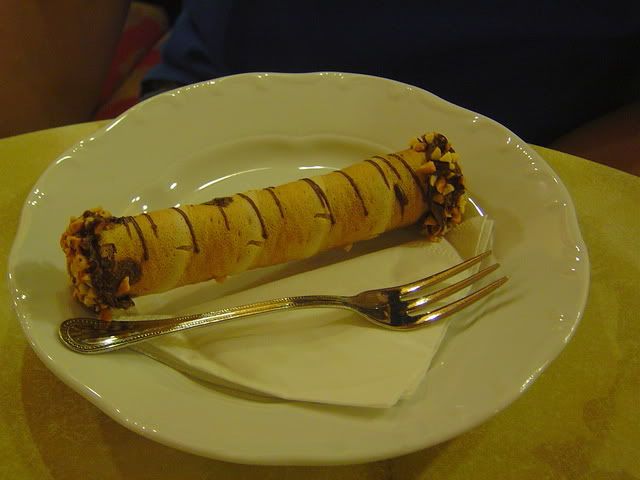 Here is a row of Hungarian biscuits in the Central Market on the left, they looked so jewel-like and beautiful, they were sold by kilo weights nad I bought some to take back to London with me, but unfortunately melted in my bag. I did have fun eating them though.
More pastry for 150 to 200 Forint (around 50-70 pence each for a danish the size of a child's head!)
The top floor is great for authentic Hungarian food which the maket regulars and tourists both frequent, very basic. You just point and ask at the canteen counter and they load of your plate with a gigantic portion of hot food (nothing more than 900 forints for a kilo of cabbage rolls, delicious sausage/rice/potato combo. Crusty white bread is free.
Sauerkraut and sausage..
Things to buy:Paprika (in both sweet and hot versions - shop around for good prices, they come in dinky little tins as well as procelain souvenir versions)
FOIE GRAS - Seriously, I got 140 grams of premium grade natural goose liver for 2700 Forint (£7.70). I'm now too scared to cook anything with it for fear of messing up such a high quality ingredient...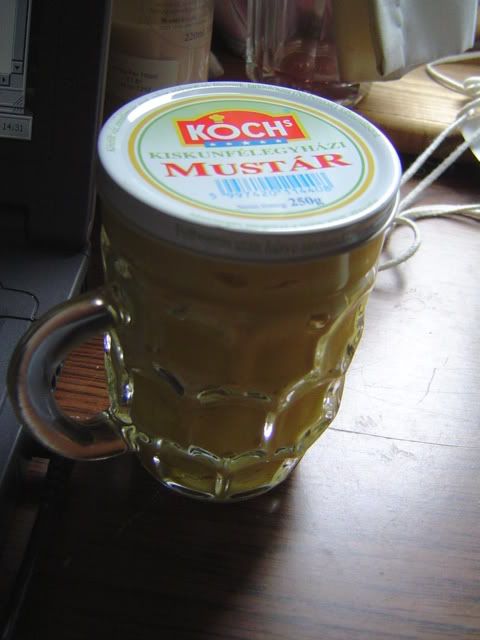 Here is a mug of mustard that I [picked up from the supermarket, I loved the idiosyncratic packaging and summed up a lot of what Hungarian culture was about. The perfect condiment for sausage, pickle and beer.
I will be updating this some more, but this is Budapest eating for now.