Christmas 2004 in Leeds
Roast Duck stuffed with Apricot, Orange and Stilton

A frugal affair for two this was not. Cheating this was. The duck came from Marks and Spencers, the fine purveyor of 'finishing it off in the oven' meals and other sundries and bringer of garlic to the masses in the UK. Roast potatoes, two types of stuffing, cranberry sauce, brussel sprouts cooked with ginger, glazed carrots and tiny chipolatas, cloudy apple juice and ready-made bread sauce. Christmas away from home, wherever that is, is something worth making special and taking the risk element out of when hungry mouths (well, two hungrey mouths including mine) are waiting. I'm really not ready to do Xmas from absolute scratch until I reach my mardy thirties and this year's did its job and pushed me to bursting point. I would include pictures of the Turkish pastries baklava, made with cardmom, pistachio, filo pastry drenched in honey had I remembered to document the gluttony...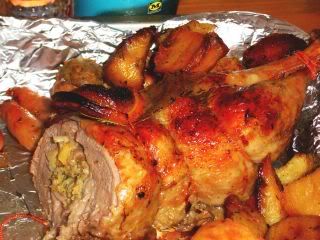 alt="Image hosted by Photobucket.com } ?>">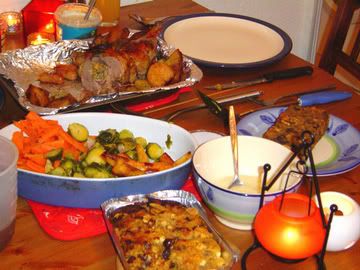 Not bad for a couple of down-at-the-heel students I'd say!