Baked Cheesecakes
The idea of 'baking a cake' isn't really something that appeals to me much; the flour, the mess and the expectation at the oven door for something delicious , spongy and light just doesn't hold the same appeal as something more robust. There's a time and a place for a sweet piece of nothingness and I'd like to have it made for me. Cheesecake is the nice in-between a torte and an actual cake.

Here is my first attempt at a baked cheesecake. Using a generic cream cheese works well here, but the addition of sour cream (even yoghurt), ricotta and marscapone adds a depth of flavour and changes the flavour and texture of the cheesecake over time, this seasoning effect isn't as strong with regular cream cheese although it produces a good, dense texture and a lingering mouthfeel. I used half-fat Philly which didn't betray too much of the dusty flavour you often get with 'light' or diet products. After surfing around for an age, I made a mix of directions to produce the below.The nut crust base was a hit, dry frying them in a pan produces a really smoky, delicious flavour. I used a mixture of chopped peanuts, hazelnuts and brazils.

Here is the final cake with a mixed berry glaze.

680 grams or two 8 0z packages cream cheese
17 tablespoons sugar
5 eggs
4.5 tablespoons flour

2 teaspoons vanilla
2 teaspoons lemon juice
473 ml sour cream
2 squares of good chocolate
2 teaspoons of good coffee or espresso dissolved in water

Base: 200 grams chopped nuts

2 tablespoons ground almonds

Mix all nuts and almond meal with melted butter and press into a springform pan, trying to line the sides as much as possible about 1 1/2\" up the sides of the pan, set aside to mix filling.

Start by beating the cream cheese until light and fluffy. Keep the mixer on a low setting throughout the beating and mixing process. Add the sugar a little at a time and continue beating until creamy. Add one egg at a time and beat after each egg. When eggs have been mixed into the cream cheese add flour, vanilla and lemon juice, coffee, mix well. Add the sour cream last and beat well.

Pour half of cream cheese mixture into the springform pan. Melt chocolate in a bain-marie or in the microwave and add to the remaining mixture and tip slowly into the tin. Place on the top rack in the middle of a 170 degree preheated oven for one hour and 15 minutes. When time is up, prop open oven door and leave in oven for one hour. After one hour, remove from oven. Let cool enough before the cheesecake is put into the refrigerator for 24 hours.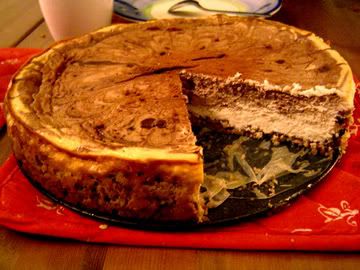 This recipe was very slightly crumbly, but dense in the middle. The coffee flavour didn't overpower.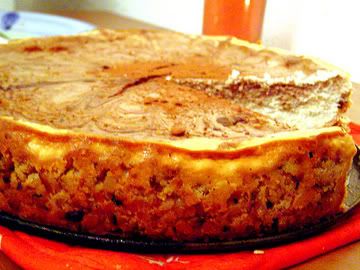 Not using a bain-marie in the oven gave me a cookie-like crust which I personally really liked, however, a water-bath would give a bakery-perfect uniform finish.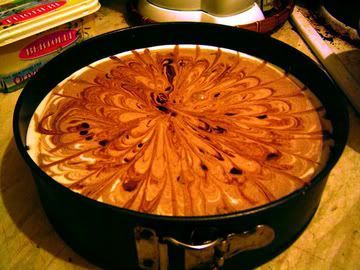 I added melted 70% cocoa Lindt chocolate to a little remainder of the second batch and poured in circles before swirling with a skewer towards the centre of the cake to get the pattern effect. Pretty, no?

Second attempt with summer berries in the mix and a glace topping.